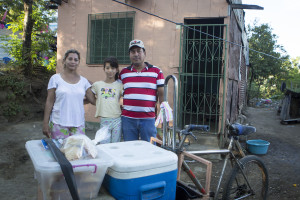 Six years ago Gilbert & Guadalupe started selling drinks on the streets near Pantanal, a Managua slum. This business supported them and their two children. Eventually they added tacos to their repertoire. Every day at 6:00 they would prepare the food and drinks and then Gilbert would walk the streets until everything sold. 
This year Gilbert learned about the NEO Fund and took two micro-loans from El Faro to improve his business. He bought a wheeled cooler and started purchasing supplies in bulk. "The people from NEO helped me strengthen my business," he says. "They taught me better administrative skills and showed me how to create a business plan. This has been very beneficial! My business has improved and my family is doing well."
 Recently they took a third loan to buy a bicycle cart to transport their supplies. This saves them about $3 a day in taxi fares. Guadalupe said, "for me and my family, this has been a huge blessing!"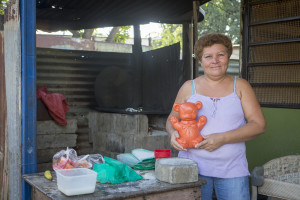 Carla has 8 children. Her two oldest daughters help in her tortilla business.They typically make 350 tortillas a day and sell them for 2 Cordovas – about 8 cents – each.  We asked, "Is your business prospering?" and she said, "Oh yes!" and ran to show us her red chancho, a piggy bank where she keeps her savings. We asked if she ever gets discouraged and she said "Yes, but when I am feeling down, Octavio, my loan manager, encourages me."
Re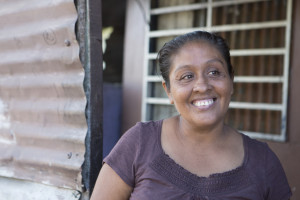 becca started cooking traditional Nicaraguan dishes and selling them out of her home 4 years ago.  She has taken 3 micro-loans, totaling $370, to grow her business and now she is applying for a fourth. We asked, "Did the loans help you and your family?" She smiled and said, "Of course! They helped me increase my income and allowed me to buy a refrigerator and to convert from a wood fire to propane. Now my children and I can eat better. We even get to have meat, like chicken and fish. And I can pay for my children's education. A thousand thousand thanks to God and to you for believing in us."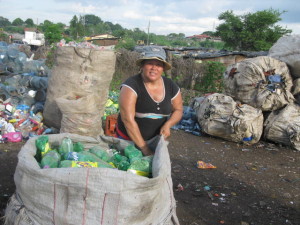 Aurora was born in the city dump called La Chureca and grew up there with thirteen brothers and sisters. They drank water from the polluted lake. They dug through the trash searching for plastic recyclables. They didn't go to school. Aurora couldn't read or write. One day her father found some books in the garbage and by studying them Aurora taught herself to read.
When Aurora became a young adult she wanted to grow her family recycling business but she had no money to work with. That's when a cook from El Faro told her about the micro-loans The NEO Fund was extending through El Faro to start micro businesses. Aurora's first loan, in 2009, was for $100. She said it was so valuable to her it was like getting $5000. "My grandmother always said, 'Plastic is money,'" she said, "so I invested the loan into plastics and God multiplied the amount."  Over the next three years Aurora would take 6 more loans from NEO, increasing the amount each time. She hired workers, bought a pickup truck and moved out of the dump to a house in the Guadalupe neighborhood.
"The first thing I do in the morning," she says, "is pray thanks to God because my family doesn't have to experience the things that I did in the dump. They have all of the things I never had."
Aurora's next goal is to buy a large utility truck to significantly expand the business. She is saving money for the
truck now.
Juana moved to the refugee village of Tipitapa 4 years ago. In 2011, with the help of a micro loan from the NEO Fund, she started a small store in her home. At first she sold fruit and beans, but gradually, over time, she has increased her inventory with two loans from NEO.
Her plans are: 1) To add a kitchen so she can sell hot prepared food, 2) To increase the size of her storefront, 3) To paint her store "happy colors." We love having enthusiastic and visionary entrepreneurs like Juana as partners! 
Geronimo drives his dilapidated pickup to the mountains every weekend and uses his axe and machete to cut wood. When the truck is full he drives back to his home in Tipitapa, where he sells the wood during the week. The wood fuels kitchen fires that are used to cook tortillas and beans – staples in the local diet. A micro-loan from NEO helped him jump start this business.